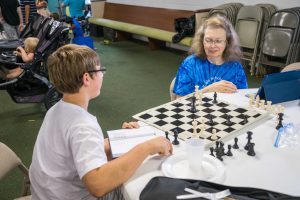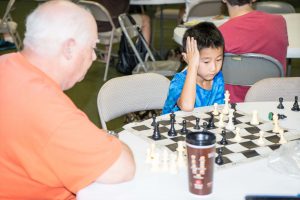 Chess is an incredibly stimulating mental activity.  Studies suggest that chess can help stave off Alzheimer's and other types of dementia in older adults.  Chess is also a great inter-generational activity benefiting young and old alike.  Hampton Roads Chess Association is piloting a program to bring chess instruction and even tournament play to senior centers and retirement homes throughout our area, as well as connecting youth and Seniors to play chess together.  Contact us to discuss our programs and schedule an appointment!
Currently we are unable to bring in-person programs to retirement communities due to COVID-19.  However, HRCA can deliver FREE chess sets for your facility, as well as provide FREE chess lessons via Zoom to groups of residents.  And ask us about our new Zoom Chess Pals for Seniors program, matching our chess kids with seniors for weekly chess sessions.  This program is only open to our local volunteers, but we encourage you to start a similar program in your area!
   Check out this WAVY 10 piece on our Seniors program!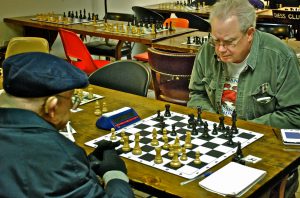 Photo courtesy of Boylston Chess Club Weblog
Related Articles
Reading, Chess May Help Fight Alzheimer's
Checkmating Alzheimer's Disease
Checkmating Alzheimer's – Teach Chess and Mind Sports as Prevention
To Donate specifically to our Chess for Seniors program, click here:
Thank you for your support!