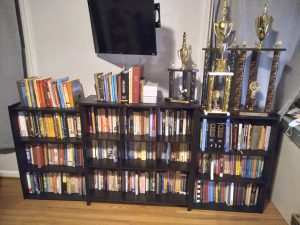 One of the services HRCA offers its members is a free library of chess books that can be checked out for study!  Almost all of our hundreds of volumes were donated to our library, with the largest donation coming in the summer of 2021 in memory of an avid chess player and Life member of US Chess, Ralph Dean Cole.
HRCA strongly recommends that players of every age take time away from training with computers and dive into chess books.  Check out this article about the world's youngest Grandmaster "Abhi" Mishra and how he used books over computers to reach his goal!
"Despite being a player belonging to a generation nursed on computers, a heavy diet of chess books formed his early learning tool. He'd done strengths and weaknesses analysis of "Silman's Complete Endgame Course" by age 6."
Our library catalog is available online HERE.  You can search for a particular title, author, or topic, such as openings, endgames, etc.  Once you have selected your books, simply contact us to arrange for pickup.  The books will be checked out to you for up to one month and may be extended as long as they are not on hold for another member.  No more than 10 books can be checked out at one time.  Members who lose or damage books will be responsible for replacement costs.  Many of our titles are chess "antiques" and out of print, so please treat them with great care!
HRCA is a 501(c)(3).  All book donations are tax deductible!